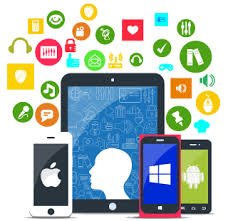 Mobile apps development is considered to be a highly challenging by many organizations, due to its multiple platforms and vast technologies.
RoyalLogics Services Pvt. Ltd development working in the latest Mobile technology and the recent scenario of smartphone users clearly show that demand for mobile apps is increasing rapidly. RoyalLogics Services Pvt. Ltd is a leading mobile application development company offering mobile application development services for Android, iPhone, iPad, and Windows mobile application development.
Why choose RoyalLogics Services Pvt. Ltd:
We have a team of experienced Developers
Our team has knowledge of framework and mobile technologies
We have a quality oriented work process
We deliver our product timely
Our cost-effective services
RoyalLogics Services Pvt. Ltd team of mobile app developers is very creative and knowledgeable to deal with your individual demands as well as your business needs. We work with advanced tools and technology. Our mobile apps developers are able to create highly customized mobile applications for client needs and enterprises. Our professional iOS application developers are well equipped in iOS technological advancements. Our team of developers stays updated with the latest technology and new version devices of iOS.
Our Mobile Application Services Include:
Corporate solutions: We present the best class of mobile apps development services for corporate software systems. The mobile application is becoming more and more crucial for organizations to stay ahead of their competitors. Our solutions are finely tuned with your corporate systems. We worked in some popular areas of mobile applications like activities management, order processing, critical business processes etc.<>
Mobile Applications for websites: We also offer custom mobile apps development services for organizations having websites and made it available to mobile users. This way the user is always connected with the web information and commit actions through their mobile. Royal Logics Services Pvt. Ltd specializes in developing applications for e-commerce websites, social networking websites and informational websites along with other business websites.
Mobile Apps Development Platforms:
HTML5-App-Development
Blackberry Application Development
iPad application development
Windows Phone Application Development
iPhone Application development
Android application development
PhoneGap development